India Association of Nebraska (IAN) deeply appreciates how our community comes together on various occasions to support several good causes and those who are in need. Recently, our community strength and solidarity was showcased in the Chennai Flood Relief- fund raising event conducted by the joint efforts of India Association of Nebraska - Omaha, The Hindu Temple -Omaha, Omaha Tamil Sangam, Telugu Samiti of Nebraska, Sirigandha Kannada Sangha of Nebraska, India Association of Nebraska - Lincoln.
The total funds raised were $103,500.55 and IAN is extremely pleased to share the information that the funds raised from the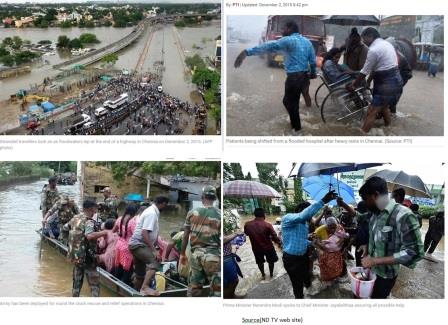 event have been equally distributed to the organizations - Tamil Nadu Foundation USA and Udavum Karangal ( as identified by Omaha Tamil Sangam) and both organizations have confirmed that they have 0% administrative cost towards Chennai flood relief/rebuilding activities. The distribution of the funds took a little longer as there was a need to identify organizations that have presence in both USA and India and additionally has IRS 501-(C)3 status. We are still waiting on the company match sponsorship of employees donations from CSG and Union Pacific. IAN will make another distribution to the above recognized organizations when we receive those funds.
IAN is highly grateful and would like to extend sincere thanks and appreciation to all the donors, volunteers, local groceries stores (Patel Grocers, Namaste Foods, Tulsi Indian Groceries, India Mart) and corporate sponsors (Union Pacific and CSG) and Prem Kumar (through goFundme.com) and the organizations that were involved in the event. IAN is honored to be part of this wonderful community.
Thank You,
IAN Executive Committee.